Puzzle Box & Escape Room Game: Cabinet of Curiosities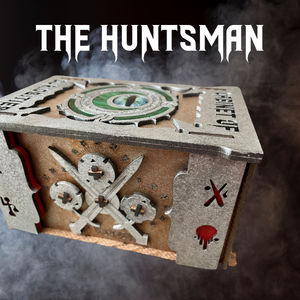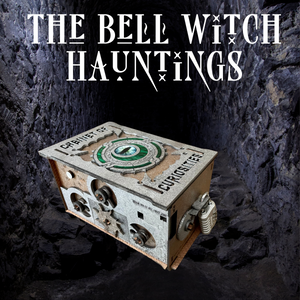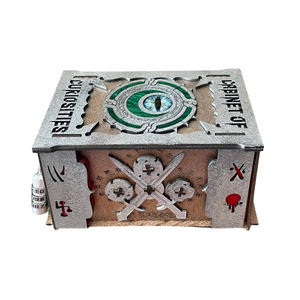 The Cabinet of Curiosities box features 2 puzzle box/escape room style games built into 1 box. Each of the 2 games come with an audio story telling experience. In order to complete each game you will need to listen along to an engaging story to learn about the background as well as listen for hidden clues to solve the puzzles on the box. Each of the 2 games covers a different subject in the world of dark folklore.
Due to the nature of the content a younger audience might not be appropriate for these games.
In order to play the audio you will need to access webpage from a computer or your phone.
Puzzle Box/Escape Room Game 1: The Bell Witch Hauntings
This game will center around the old Appalachian legend of the Bell Witch Hauntings. The hauntings took place in Northern Tennessee in the 1800's and terrorized one family for many years. To fully encapsulate the story and intensity of these hauntings we have created a truly creepy and engaging audio recording to go along with the game. Important information and clues will be built into the audio so you will need to listen along in order to solve the puzzles on the box.
Puzzle Box/Escape Room Game 2: The Huntsman
This game is inspired by several different pieces of old German folklore surrounding a horseman that beheads its victims. To unlock the mysteries of the box you will need to listen to an audio recording from an investigative reporter that has been tracking the Huntsman for her whole career. What she documents as she explores an old chest in an attic could help you solve the mysteries and puzzles built into the box.
Why did I create these games?
I have been designing and making puzzle boxes for the past 3+ years and I co-founded an escape room business (Escape Woods) 8 years ago. Out of the many games that I have designed this one is the one that I am most excited about because with this box I am incorporating a few new elements that I believe will take the game experience to a new level.
With the boxes that I have developed in the past I have worked hard to try to tell a story that goes along with the puzzle box game. But it is challenging to tell a full and engaging story with a box and paper. o, for this new box I am incorporating an audio story telling component. Furthermore, to give puzzle lovers more bang for their buck I have built 2 games into this 1 box. Each game will center around a different piece of dark folklore and will contain an engaging story that you will listen to in order to not only learn the story but the story will also include information that you will need to solve the puzzles.
This is the coolest thing ever! Good quality too! I foresee many a treasure hunts in my family's future!!!!
Very fun kit, love the wooden puzzle and coins, which made it special for the kids. My son and his friend (7) needed some guidance but it was fun to help them reach the solution. Highly recommend!
So fun! Four 9 year olds played this at my daughter's backyard birthday party and had a blast! We had them do challenges to earn hint cards and that added an extra layer of fun. Thank you!
This is the second game I've ordered from this seller and both were outstanding quality and so much fun! Can't say enough good things!
Angella
Love this! The treasure map is awesome! Makes a wonderful family treasure hunt for our cabin weekend. Great storyline that goes along with the puzzle/clue solving to locate the treasure through a fun scavenger hunt. Very clever!