The Woods: Escape Room/Puzzle Box featuring audio storytelling component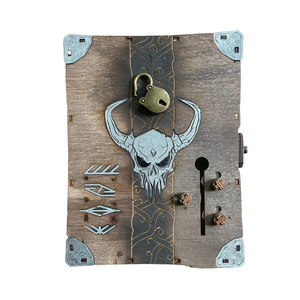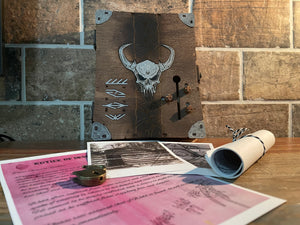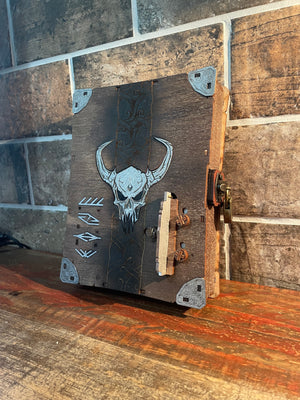 The Woods is an escape room style game that features puzzle box elements. In this game you will need to crack codes and solve puzzles in order to unlock the compartments of the box. This game also features an engaging audio story that you will need to listen along to as you play the game. In the audio you will hear the story around the game but you will also need to listen for hidden clues embedded in the story. The content of this game was inspired by a story in the world dark folklore around the time of the Salam Witch Trials.

LINK TO AUDIO SAMPLE: https://youtu.be/Sr5cKiMhnXc

Storyline: You find yourself locked in an old cabin set deep in the dense woods of Massachusetts. In the cabin you find a wooden box and a note sitting on the table. The note explains that if you hope to escape the cabin you will need to unlock the box that sits before you before the clock strikes midnight. If you fail, then you will join the others and be stuck in the woods for an eternity. Slightly panicked you begin to fumble with the box to try to unlock it. But no luck. So you look around further and you find an old tape recorder with a cassette tape in it. It still works. You listen along and just your luck it seems to contain useful information to help you unlock the box. Are you clever enough to unlock the box and recover the golden medallion before the clock strikes midnight?

In order to play the audio you will need to access webpage from a computer or your phone.

Age recommendation: 16 and up (the storyline in the audio might be scary for a younger audience)
Recommended # of Players: 1-2
Estimated Time to Complete 30 minutes to 1 hour
Free Priority Mail Shipping in the US.
This is the coolest thing ever! Good quality too! I foresee many a treasure hunts in my family's future!!!!
Very fun kit, love the wooden puzzle and coins, which made it special for the kids. My son and his friend (7) needed some guidance but it was fun to help them reach the solution. Highly recommend!
So fun! Four 9 year olds played this at my daughter's backyard birthday party and had a blast! We had them do challenges to earn hint cards and that added an extra layer of fun. Thank you!
This is the second game I've ordered from this seller and both were outstanding quality and so much fun! Can't say enough good things!
Angella
Love this! The treasure map is awesome! Makes a wonderful family treasure hunt for our cabin weekend. Great storyline that goes along with the puzzle/clue solving to locate the treasure through a fun scavenger hunt. Very clever!