The Kraken Box: Escape Room/Puzzle Box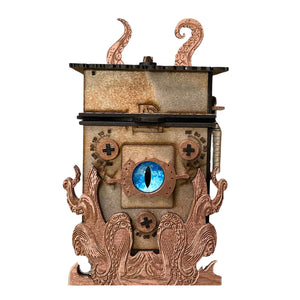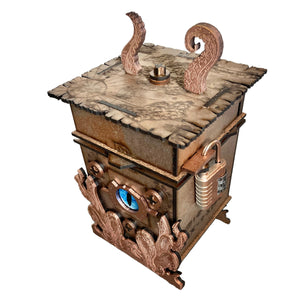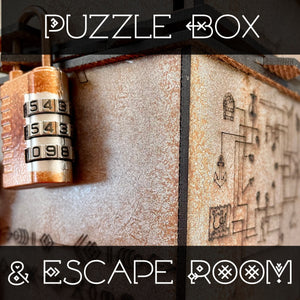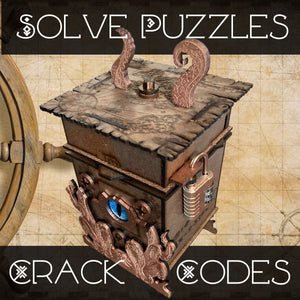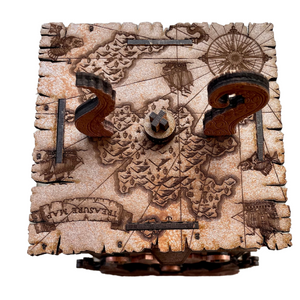 SHIPPING TIMELINES: It will take 5-7 business days for us to build and ship out your game. Once we ship the game it will arrive via USPS and that generally takes another 2-5 business days to arrive in the US.
This game is part escape room and part puzzle box. In this kraken themed game you will need to solve puzzles to unlock various parts of the box and uncover hidden clues. If you can open up the box, you will discover the ancient treasure that was bound for the King of Norway that mysteriously went missing off the coast of Norway amid rough seas in the suspected hunting grounds of the kraken.

Please note that some of the elements of the box, like the kraken eye, may slightly differ in appearance (ie. the color of the kraken eye).

Age recommendation: 12 and up
Recommended # of Players: 1-2
Estimated Time to Complete 30 minutes to 1 hour
Free Priority Mail Shipping in the US.
Pretty dang good escape room box.
The final puzzle took some thinking. The dials were a little immovable and had to be worked to loosen. Overall a great puzzle for the price and I could tell it had some thought and care put into the design. I will be ordering another!
Great product, quite beautiful
Great product, quite beautiful
Quick arrival and matches description
Quick arrival and matches description
Super fun! Great beginner box for me and m...
Super fun! Great beginner box for me and my partner. Will admit that I ended up just doing some safe cracking at the end, but figured the code out afterwards. 10/10.
This is the coolest thing ever! Good quality too! I foresee many a treasure hunts in my family's future!!!!
Very fun kit, love the wooden puzzle and coins, which made it special for the kids. My son and his friend (7) needed some guidance but it was fun to help them reach the solution. Highly recommend!
So fun! Four 9 year olds played this at my daughter's backyard birthday party and had a blast! We had them do challenges to earn hint cards and that added an extra layer of fun. Thank you!
This is the second game I've ordered from this seller and both were outstanding quality and so much fun! Can't say enough good things!
Angella
Love this! The treasure map is awesome! Makes a wonderful family treasure hunt for our cabin weekend. Great storyline that goes along with the puzzle/clue solving to locate the treasure through a fun scavenger hunt. Very clever!